If there's one thing we look forward to every summer, it's a fun visit to Holiday World. This year was made more interesting by two developments: we now have three young children to share the fun with and we were offered a three-day, two-night whirlwind tour of this attraction-packed stretch of Southern Indiana.
In addition to Holiday World, the family was treated to a taste of the many different attractions visitors to the Ohio River counties between the larger cities of Evansville and Louisville can enjoy.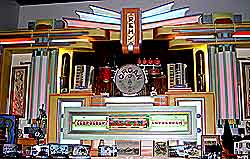 The "Decap" Belgian Dance Organ, one of the few in existnence today, was found in Sint-Niklaas, Belgium.
This instrument was considered "portable" back in its heyday. It would be set up and moved from dance hall to dance hall every six months.
Dr. Ted's Musical Marvels
Our first stop was Dr. Ted's Musical Marvels in Dale, Indiana. We've driven by this unique attraction numerous times as we've traveled down 231, but we've never had time to stop. We're glad we finally did! It's easy to find on the east side of the highway just north of I-64.
I can honestly say I've never seen anything quite like this impressive collection of vintage mechanical musical instruments. From music boxes to player pianos to nickelodeons, Dr. Ted has amassed a dizzying collection of self-playing musical machines.
Ted Waflart, M.D., who was a mechanical engineer before becoming a physician, began his collection in 1973 when he bought the 1907 French fairground organ and restored it. He has added to the collection while traveling throughout Europe, visiting vintage amusement parks and through other collectors.
CONTACT:

Dr. Ted's Musical Marvels
RR 2 Box 30A
Dale, IN 47523
(812) 937-4250
Lake Rudolph Campground and Resort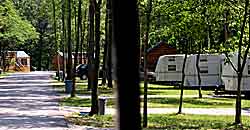 Lake Rudolph Campground and Resort offers over 100 family rental R.V.s and cabins.
Next we checked into our rental RV at Lake Rudolph Campground & R.V. Resort. The campground, which is adjacent to Holiday World, boasts over 100 family rental R.V.s and cabins. It also has a couple of different swimming areas and play areas for kids as well as a camp store and other amenities.
Our stay in the R.V. was comfortable for our family of five and mommy and daddy even got their own private "master bedroom," which we liked.
In addition to the rentals, they also offer plenty of tent sites, R.V. sites and deluxe R.V. sites.
You can find out more about Lake Rudolph at their Web site, www.lakerudolph.com or by calling 1-877-4RUDOLPH.
CONTACT:

Lake Rudolph Campground & R.V. Resort

Jct. Hwy. 162 & 245

Santa Claus, IN

Reservations: (877) 478-3657

Info Line: (877) 937-7839

www.lakerudolph.com
Lincoln Boyhood Home National Memorial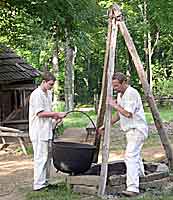 Living history interpreters demonstrate what local farm life was like during Lincoln's time in Spencer County.
Before getting too settled in at the R.V. I let my wife and children enjoy the swimming pool, but I took the short drive to Lincoln City and the Linclon Boyhood National Memorial & Living Historical Farm.
I had visited before, but its always interesting to see the place where one of our most revered presidents grew up. Abraham Lincoln and his family lived in Spencer County from 1816 to 1830. These definitely included the former president's formative years.
The property also includes a living history farm, walking tour and a Memorial Visitor Center. The visitor center includes a museum and orientation film entitled Forging Greatness - Lincoln in Indiana. If you grew up watching In Search Of... on television like me, you'll appreciate the narration by Leonard Nimoy (who is best known as Dr. Spock from Star Trek).
CONTACT:

Lincoln Boyhood National Memorial

PO Box 1816

Lincoln City, IN 47552

(812) 937-4541

www.nps.gov/libo
Frosty's Fun Center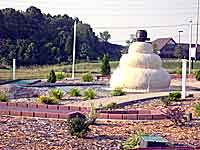 Our family enjoyed a round of Santa Claus-themed miniature golf aat Frosty's Fun Center.
After touring the National Memorial and enjoying a conversation with one of the history interpreters, I picked up the rest of my family and we went to Frosty's Fun Center for pizza and miniature golf.
Located just across the parking lot from Santa's Lodge in Santa Claus, Indiana, Frosty's Fun Center was just the ticket for my family after a busy, but exciting day.
Understandably, our two- and three-year-olds have a little trouble grasping the finer points of the game of miniature golf. But we had quite a bit of family fun, just the same, even if all of our score cards weren't completely accurate.
Maybe we were just really hungry by then, but the pizza tasted extraordinarily good to me that evening.
CONTACT:

Frosty's Fun Center
15 South Cedar Lane
Santa Claus, IN 47579
(812) 544-3338
Buffalo Run Grill and Gifts
The small herd of "buffalo" came up to greet us at Buffalo Run Grill and Gifts.
In the morning we had one place to visit before we went to Holiday World. This news might have been more traumatic to the kids if the place we were going hadn't been Buffalo Run.
Our children loved seeing the small heard of Buffalo (technically Bison) on the property as well as one curious ostrich. In the interest of full discloser, I have to admit our two-year-old seemed more interested in the tractor parked nearby.
While seeing the animals was fun, that was hardly the extent of the interesting things to look at. The restored log cabin where Lincoln had proportedly slept was of particular interest to me and the kids loved the authentic-looking teepee.
We also were treated to a tasted of buffalo burger. If you're like me and have been unimpressed with the dry, bland taste of buffalo burgers in the past you'll be happy to learn that they can be juicy and delicious when prepared properly. And luckily the cook at Buffalo Run knows how to do it just right.
CONTACT:

Buffalo Run Grill & Gifts
Hwy. 162 Box 28
Lincoln City, IN 47552
(812) 937-2799
Holiday World
Holiday World's The Legend was ranked the Number 5 best wooden roller coaster in the world. The Raven was ranked number 1.
We could easily devote this entire article to Holiday World, there is so much for a family to enjoy at this premier amusement park. And we've certainly devoted many bytes to extolling its praises on this very Web site.
Suffice it to say for the purposes of this article that it is still the most family-friendly amusement park in the world and the cleanest in the world according to the presenters of the Golden Ticket Awards, which is like the Oscars for amusement parks.
Holiday World can also boast the number 1 rated wooden roller coaster in the world, The Raven, and the number 5 rated wooden roller coaster in The Legend.
In addition to that, Splashin' Safari was ranked the world's number 2 water park by the readers of Amusement Today in 2002 and 2003.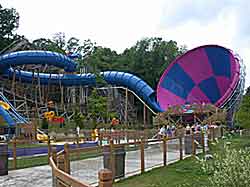 The Zinga is just one of many great water rides at Splashin' Safari.
You just can't go wrong with this gem of family fun nestled in beautiful Southern Indiana. And it's not just the big things that make this park great.
Contributing to the family-friendly atmosphere, they still have free soft drinks for all guests and also free sunscreen available in the water park. In what seems to be an increasingly mercenary world, its refreshing to see someone offering free drinks and sunscreen when they could easily charge outrageous prices to consumers without many options once they enter the park.
They have also become a smoke-free park in 2004. Which is great for all the non-smokers and those of you who still smoke will be relieved to know that they have convenient smoking areas that are reportedly quite nice, though I didn't have occasion to check them out myself.
I really can't say enough good things about this park, but I'll close by saying if you haven't been yet this summer get to Holiday World immediately. If you have been, start planning another trip before the summer's over.
Seriously. Do it. I'll wait...
CONTACT:

Holiday World & Splashin' Safari

PO Box 179

Santa Claus, IN 47579

(877) 463-2645

www.holidayworld.com
Leavenworth Inn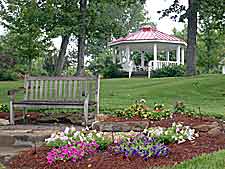 Beautifully landscaped grounds are one of many reasons the Leavenworth Inn is such a remarkable place to stay.
Well, our day at Holiday World got cut short by mother nature, who saw fit to "bless" us with
violent summer storms. Luckily we were staying at the Leavenworth Inn that evening so the day was far from ruined.
Since starting SouthernIN.com back in 1999 we've heard a lot about the Leavenworth Inn, but have yet to even visit, let alone stay there. It is right on State Road 62 in Leavenworth, Indiana; less than an hour's drive from Santa Claus. If we had only known what we were missing.
My family isn't accustomed to five-star accommodations, but this must be what it's like. They bill it as a country inn overlooking the Ohio River consisting of three beautifully renovated turn-of-the-century homes. That doesn't even begin to describe what a wonderful place it is to stay. And the prices are about what you'd pay for a room at a moderately-priced hotel in any city.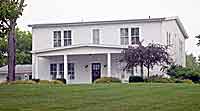 One of three renovated turn-of-the-century homes that comprise the Leavenworth Inn.
They have 14 rooms, all with private baths. One with a fireplace, one with a jacuzzi and one with a claw-foot bathtub. Rooms also have an armoire with TV, VCR, DVD player and satellite; a hair dryer, alarm clock, telephone and data ports.
But the luxury doesn't stop with your room. There is an impressive reading and movie library, parlor games, walking and biking baths, bicycles for guests to ride, tennis court, exercise room, horseshoes, gazebo overlooking the river, front porch rockers to relax, beautiful gardens, daily newspapers, and afternoon cookies.
Even though it was still drizzling by the time we arrived, mom and the kids took a brief tour of the walking/biking paths. The landscaping is truly beautiful, the pictures on this page can't even begin to convey the true beauty.
Our room was a two-room suite providing a TV/VCR/DVD combo for the kids and the same for us. With the extensive DVD library we found a great kids movie and a mindless comedy for mom and dad. I even managed to sample some of the delicious cookies while I went to procure the movies.
The Leavenworth Inn is definitely one of the nicest places I've stayed in Southern Indiana or anywhere else.
Overlook Restaurant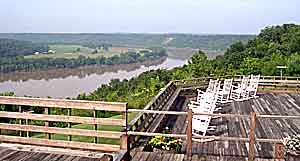 The view! That's enough but the food's great too.
In the morning we got to go almost directly across the street for breakfast at the Overlook Restaurant, another of the area's top-notch attractions.
The view from the Overlook is simply breathtaking. You can see miles of the Ohio River including an impressive bend. They have been in business for over 50 years and are known as the "High Point in Dining Along the Ohio."
If their breakfasts are any indication, the words "high point" don't just refer to the altitude. I commented to my wife and kids that the pancakes were the best I've ever had -- and that's from someone who prides himself on his own homemade pancakes.
Though it wasn't crowded the morning we were there the restaurant appeared to have a huge seating capacity so I wouldn't imagine it would ordinarily be difficult to get a table.
They serve breakfast, lunch and dinner and feature delicious country cooking including fried chicken, country ham, biscuits and gravy and homemade pies; as well as a selection of steaks and seafood.
As good extraordinary as the food is, the view is the real attraction. Allow some extra time to wander around on the decks and watch a barge drift down river.
CONTACT:

The Overlook Restaurant

1153 West State Road 62

Leavenworth, IN 47137

(812) 739-4264

www.theoverlook.com
Marengo Cave
Marengo Cave's Music Hall appeared in the music video for the band GS Megaphone's song Venom.
We finished off our fun-filled three-day tour of south-western Indiana with a visit to Marengo Cave. The area had been recently devestated by tornados and the damage was evident as we passed through the town of Marengo and even the drive up to the cave.
Luckily they were already re-opened in time for our visit.
There is no documented evidence that anyone ever entered Marengo Cave before its historic discovery on September 6, 1883 by Orris and Blanche Hiestand, brother and sister, who lived in Marengo.
The main corridors were quickly explored by Samuel Stewart's son and his friends the following Sunday. Recognizing the value of what they had found, the Stewart's immediately opened the cave to the public.
Having been open to public tours for over 100 years, the cave is probably the most "commercialized" of the Southern Indiana caves we've visited. There is plenty for an average family that is not composed of hard-core spelunkers to do.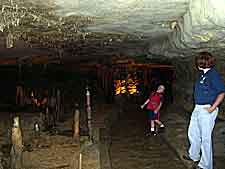 Guided walking tours are only one way to explore Marengo Cave.
The kids particularly enjoyed the Marengo Maze Crawl, which is a cave simulator imported from Belgium that allows guests to wind and twist one way through four challenging wooden boxes. We could hardly keep the kids out of that.
They also enjoyed gemstone mining where they got to keep the gemstones they found and the large gift shop.
My wife and I enjoyed the walking cave tours, but we quickly tired of carrying the little ones who coincidentally quickly tired of walking on their own.
In addition to the things we did, the park offers The Bat, a 300-foot Zipline that allows harnessed guests to drop from a platform and take a thrilling ride down an aircraft cable.
Also two group shelter houses, the Clifton Group Center for groups staying overnight, four air-conditioned camping cabins, a 30 foot climbing and rappelling tower, Challenge Hill Teams Course, an indoor snack bar, and a signed nature trail.
The cave is open daily all year. Memorial Day-Labor Day 9am-6pm: Spring and fall weekdays, and the rest of year 9am-5pm. Closed Thanksgiving & Christmas. Guided tours of both Dripstone and Crystal Palace sections leave every 30 minutes.