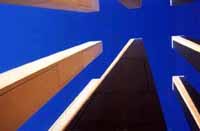 Columbus - Different By Design
When I heard John Villani interviewed about his book, "The 100 Best Small Art Towns in America", I was curious: which Indiana towns were chosen? A few came to mind, but to tell the truth, Columbus wasn't my first guess. I've since learned that not only is Columbus known throughout the world for its architecture, it was also chosen because of its commitment to the arts.
Columbus has a branch of the Indianapolis Museum of Art, several arts organizations including ArtColumbus, Art in Public Places, and the Columbus Area Arts Council. It is also home to Columbus Symphony, The Columbus Dance Workshop, The Columbus Indiana Philharmonic, and an Amphitheater at Mill Race Park, where national acts perform. After a visit to Columbus, it is apparent that the people of this town have much to be proud of.
"Different by Design", boasts the Columbus Visitors Guide, and that phrase kept coming to mind as I toured Columbus. The "design" is integral in almost every building, sidewalk, and shop. The Commons and Commons Mall is more than just a shopping complex, but a community center which is also home to the Indianapolis Museum of Art - Columbus Gallery, exhibit halls, and a kidscommons, an interactive, hands-on center for children. On the Architectural Tour, we learned that bricked sidewalks were widened at intersections to allow people room to stop and chat. The slogan "Different By Design" couldn't describe Columbus better.
Background
Columbus' architectural notoriety had its beginnings in 1942, when the First Christian Church, the first modern church of its kind was built. This attracted national attention, and ushered in a new era for Columbus - one that would earn it international acclaim as an architectural showpiece.
Columbus was founded in 1821. An important contributor to modern Columbus was William G. Irwin. Mr. Irwin was a banker and had a beautiful home and garden which can still be toured at certain times of the year. There are still several Irwin Union Bank and Trust branches throughout town.
The Cummins family has also shaped modern Columbus. The founder of Cummins Engine Company, Clessie Cummins, had been the chauffeur for the Irwin family and had the idea for his diesel engine company. Mr. Irwin was willing to back this venture, and today Cummins engines are known throughout the world.
Arvin Industries has also been an important player in today's Columbus. Their automobile parts are sold internationally, and their first product was the tire pump. Outside of Arvin Industry's headquarters is a sculpture in the center of the street called, "When I Was Your Age", which depicts a man pumping air into the tire of a Model A Ford.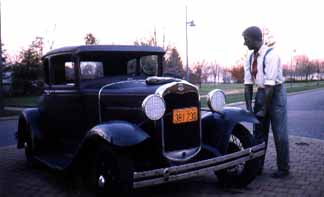 Modern architecture arrived in Columbus in 1942, but really took off in 1957 when Cummins Company created a foundation that offered to pay the architectural fees for all new schools, provided they agreed to use only nationally distinguished architects. It was felt that in order to attract world-class designers and engineers to live and work in Columbus, it would need to look like a world-class city.
The Cummins Foundation also pays the architect fees for other public buildings. Churches, businesses and individuals have shared this commitment to excellence, and a drive around town gives the visitor miles of viewing pleasure!
Today, Columbus is known as the "Architectural Showplace of America", and is ranked sixth in the nation by the American Institute of Architects for innovation and design. Care is taken to blend the new with the old. A beautiful example of this is the Cummins Engine Company's world headquarters building, which was built around the old Cerealine building - Columbus' earliest mill. The old mill now stands proudly preserved, surrounded by reflecting pools, and its modern architectural counterpart.
The Architecture
The architectural tour is offered March through November seven days a week and December through February six days a week. Volunteers guide these two-hour tours, and give a complete overview of the city and its architecture. Some of the names you may recognize are architects Eliel Saarinen, Eero Saarinen, Harry Weese, Richard Meier and I.M. Pei.
The tour starts at the Visitors Center, located in what was originally the Storey House. The Visitors Center offers a preview video, lighted panels with different featured sites, and also houses the glass work of Dale Chihuly. The "Yellow Neon Chandelier", is made of 900 pieces of blown glass and hangs in the lobby with other works by this artist, named as one of America's "National Living Treasures".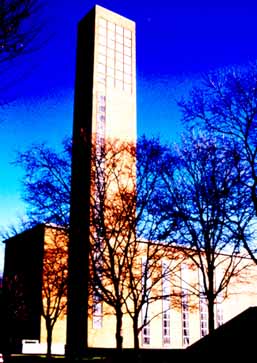 Our first stop was the First Christian Church, designed by Eliel Saarinen, and completed in 1942. This church features a geometric design, and is built mostly of buff brick and limestone. The bell tower next to the church stands 166 feet high.
We went inside of the First Christian Church, which has an open, light, rectangular-shaped sanctuary, with a flat roof 45 feet overhead. An Aeolian-Skinner organ is concealed by a wooden screen, and has 4,594 pipes.
The North Christian Church was designed by Eero Saarinen, son of architect Eliel Saarinen, who did the First Christian Church. This church is an "opposite" of his father's church. It is six-sided, with a low, sloping roof, and a 192-foot spire. Inside, the sanctuary is low-ceilinged, round, and has dark wood, giving it a warm, intimate feel. In the center is the communion table, surrounded by tiered pews for worshippers.
Another fascinating building is the Bartholomew County Courthouse, built in 1874. This was renovated in 1969 and 1998, and is a Second Empire-style building, and was listed on the National Register of Historic Places.
Outside the courthouse stands the Bartholomew County Veterans Memorial. This is a field of 25 limestone pillars, each 40 feet high. Visitors can walk amidst the pillars, and read names of 20th century war dead, and actual letters home, etched into the stone. It provides a very touching memorial to these Bartholomew County veterans. The memorial was built in 1997 and was designed by Mary Ann Thompson and Charles Rose.
Another place of interest is The Cummins Engine Company's Corporate Office Building. This was designed by Roche Dinkeloo and Associates and built in 1983. This is a 200,000 square foot concrete and glass building, with the landscaping complementing its surroundings. The walkway, with its columns and pergola, surround a central green area, and is made of large square stones, paying tribute to those used by Saarinen in the First Christian Church. Inside the lobby of the Cummins Engine Company's office building is a small museum, where visitors can see the sculpture of the "Exploded Engine"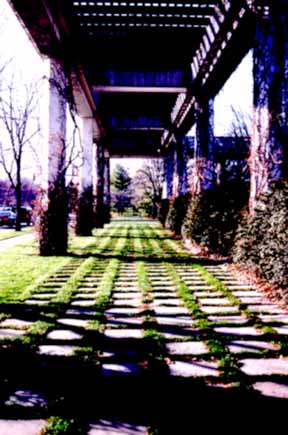 There are many other sites on this architectural tour worth mentioning - the six numbered fire stations, which feature art nouveau, art deco, and even a representation of the county's rural surroundings in Fire Station Number 5, which incorporates shapes of barns and silos.
The schools are all interesting, and offer such details as low ceilings in the elementary school so as not to overwhelm the young students, and the Lillian C. Schmitt Elementary which has ten classrooms that open to playgrounds. This minimizes the overwhelming effect of having too much hallway travel.
The Columbus Regional Hospital is another beautiful building, with green tile roofs, and two new wings which make attractive additions to the original building.
There is much more to see and do in Columbus - Mill Race Park, an 86-acre downtown riverfront park; the welcoming red bridges as one enters town; and the vast array of public sculpture and art.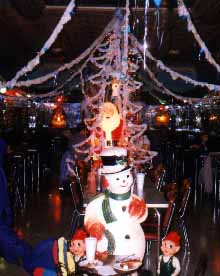 Zaharako's decorated for Christmas

I would be remiss if I didn't mention Zaharako's, a longtime Columbus favorite of folks of all ages. This old-fashioned soda shop and confectionery has been serving up ice cream, sandwiches, and smiles since 1900. This family owned restaurant features two Mexican onyx soda fountains that were purchased at the St. Louis World Expo in 1905 and a full concert German pipe organ that still plays songs of the 1890's on request. There are few things better than a Zaharakos special cheeseburger and a hand-dipped sundae to top off a full day of visiting this remarkable town that is truly "Different by Design".

Learn more about Columbus, Indiana by visiting their web site at www.columbus.in.us or by calling 812-378-2622 or 1-800-468-6564. Or e-mail visitcol@hsonline.net.