Santa Claus, Indiana Prepares for the Christmas Season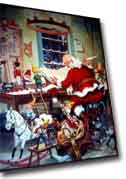 Santa checks his list in this painting from Holiday World and Splashin' Safari.

Santa's Elves Launch Letter Campaign
Just after the Halloween pumpkins are put away each year, a group of volunteers in the town of Santa Claus, Indiana, meets to organize another year of answering children's letters to Santa Claus.
"Children have been sending letters to our town since the turn of the century," says Patricia Koch, who is on the board of Santa's Elves, Inc., a nonprofit organization formed in 1974 to ensure that postage costs are provided each year. "Our records show that the first person to answer the children's letters to Santa was the Santa Claus Postmaster, James Martin, in the year 1914. We've never missed a year since."
Koch's father, Jim Yellig, who assumed the role of Santa Claus while serving in the Navy during World War I, offered to help with the letters after the war, and soon enlisted the assistance of a friend from Tell City, Indiana, Roy Fenn. The number of letters increased each year; and a series of features in Ripley's Believe It Or Not turned the light dusting of letters into a blizzard.
In 1939, Yellig and Fenn approached the American Legion and the "40 et 8" organization for help. To this day, both organizations continue to provide postage money and letter-writing assistance. "My father didn't 'play' Santa Claus," says Koch. "When he put on that red suit, he was Santa Claus. As a girl, I remember him always carrying a box of letters in his car - and now I'm doing the same thing." Yellig was Santa Claus at the theme park Santa Claus Land, as well as many national events, including an appearance on the television game show, "What's My Line."
In 1974, Santa Claus Postmaster Mary Ann Long worked with local resident Mabel Ryan and attorney Clarence Price to form Santa's Elves, Inc. so that donations could be accepted to help pay postage costs each year. The Christmasy letters and envelopes are printed and contributed each year by Patricia Koch's family's business, Koch Development Corporation, the parent company of Holiday World and Splashin' Safari, formerly Santa Claus Land.
Up to 10,000 letters are answered each year by Santa's Elves, who are assisted by the Christmas Lake Village Garden Club, local senior citizens, and other yuletide volunteers. Letters written in foreign languages are sent to the monks at nearby St. Meinrad Archabbey and the Sisters of St. Benedict at the Monastery Immaculate Conception in Ferdinand to be answered in the children's own language.
Children wishing to write to Santa should address their letters to Santa Claus, PO Box 799, Santa Claus, IN 47579. Koch urges parents to check that a legible return address is included. Donations to help pay postage costs may be sent to the same address.