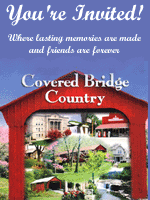 Corn Mazes - We've Found Some Amazing Maize Mazes!
While it's true that "there's more than corn in Indiana", anyone who's spent much time here knows we have our share of cornfields! Some Indiana farmers have discovered more than one use for a corn field, and have turned portions of their fields into Corn Mazes. We learned of a few Corn Mazes that are sure to provide fun and adventure for the family.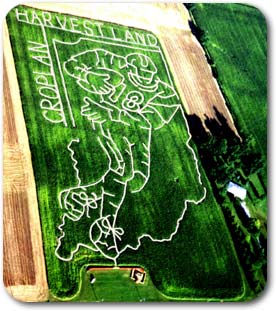 Peyton Manning in Corn, from McMaze Indiana, used with permission.

"McMaze Indiana", near Cambridge City in Wayne County is a multi-acre cornfield trimmed into the shape of the state of Indiana. Each year, pathways are cut into a design that celebrates Hoosier Pride. This year it is cut into Indianapolis Colts quarterback Peyton Manning! His body is 750 feet tall with a shoulder span of 600 feet. The football he carries is longer than a football field.

You can learn Indiana history while wandering through this massive maze. Hundreds of Hoosier fact and trivia signs are located throughout the pathways of the state maze for folks to read as they find their way out. The maze is located at Dougherty Orchards, Indiana's oldest orchard. While you're there you can also visit Ol' McDougherty's Petting Farm, visit the Apple House or even pick your own apples during September and October. McMaze is open daily from 1-6pm and Sunday 12-6pm. Group tours are available during the week. On October 14, 20, 21, 27 and 28 McMaze will be haunted! For more information see their web site, or call 765-478-5198. at http://infocom.com/mcmaze/.

The Montgomery Family of Underwood, Scott County started noticing corn mazes several years ago, and Mrs. Montgomery, who has a creative flare, knew they had to do something like that at their Southern Indiana farm. They were helped by the Doughertys who do "McMaze", who offered them the ear of corn design that they used this year. Using a GPS (Global Positioning Satellite) system to map out the maze and give them coordinates, they were able to mow the 5-6 foot wide paths in about four or five hours. By September they had been featured on three different television stations and welcomed over 1,500 people. And this is their first year for their maze!

The Montgomerys have a wide variety of family fun activities at their Scott County farm. They have a camping area, a place for folks to have bonfires, and a fishing pond. They also grow over 60 varieties of pumpkins, squash and gourds, and 30 varieties of mums and asters. They also sell straw, cornstalks, Indian corn, crafts, and painted pumpkins. Children are invited to paint their own pumpkins too. The Montgomerys welcome group tours, and are open Wed. 10-6pm, Thursday through Saturday 10am-9pm, and Sundays 12-6pm. Each Saturday in October they will feature a haunted maze! They are located 25 miles north of Louisville, Kentucky, just off of Interstate 65. Call 812-752-2300 for information on group tours, or for directions.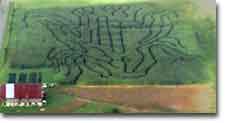 The Corn Maze at Montgomery Farms
The Castle of the Corn Maze welcomes all Lords, Ladies, Fair Maidens, Prince Charmings and Jesters of the Court to Jennings County's only medieval Castle in the Corn, a maze with twists and turns filled with clues to guide you on your way through, if you are clever enough to decipher them!
The Castle in the Corn Maze was designed by Larry Kamman and is in the shape of a castle. It was designed on computer, laid out, and then cut with a lawn mower when the corn was just 3-4 inches tall. This maze is on seven acres and takes about an hour and a half to complete. The theme is a medieval castle, and besides finding your way through the maze, there are two mysteries for visitors to solve. One is a mystery about a jester, and the other is about a majestic mushroom. The castle is broken down into rooms, with facts and clues in each room. There is also a Pokeman game designed for children.
In addition to the mysteries and the maze, concessions, snow cones, chili, pumpkins, jams, jellies, t shirts and hats are for sale. This is the first year for the Castle of Corn Maze, but so far all their visitors have enjoyed it.
From October 13th through the 29th, each Friday and Saturday night the maze will turn into a "haunted castle" beginning at dark, until around 10pm. Regular hours are Saturdays and Sundays noon to dusk. Tuesday through Fridays are available by appointment for groups of 10 or more, with discounts available. The regular price is $5.00 for 5 and older, with children 4 and under free with an adult. The maze is located north of North Vernon, near Scipio. Call 812-352-9445 for information or for directions.
"A Maze in Grace Corn Maze" in Cloverdale is sponsored by the Grace Lutheran Church and helps raise money for their ministry in Central Indiana. Participants enter the maze "cornfused" and emerge one to two hours later "amazed". The object is to negotiate paths under the watchful eye of "Maze Master". This giant maze is cut in a 5-acre corn field on State Road 231, just south of Cloverdale. Come and enjoy the fun! Refreshments, a pumpkin patch, fresh garden produce, children's maze, sunflower houses, t-shirts and other merchandise, games and activities are available. The maze is open to the public Saturdays from noon to dusk and Sundays from noon to 6pm and will be closed rainy days. On October 13th and 14th there will be a Moonlight Maze from 7-11pm on Friday and noon till 11pm Saturday. October 28th will celebrate "Harvest Festival" with a Hog Roast from 4-7pm, bake sale, carved pumpkin contest, music, games, and face paintings. It will be open through October 29th. Come enjoy fun by the bushel! $5 admission per person. Under 4 free with adult. 765-795-3214. www.cloverdale.in.us/grace/mazehome.htm.
Englebrecht Orchards in Evansville, Indiana has a wonderful corn maze. Englebrechts is a beautfiul apple orchard located on a high hill with a wonderful view. They make and sell apple cider. They also have a farm market with fresh fruits and vegetables, baked goods, jams, etc. They sell mums, pumpkins, and other plants in the fall. Their maze has a Wizard of Oz theme, with characters from the story placed inside the maze. The maze is open all day Saturdays and Sunday afternoons, and weekdays for school groups. This has been a family-owned orchard for over 80 years. Please call ahead to confirm times. Englebrecht Orchards, 600 Christ Rd., Evansville. 812-423-1079.