---
Fall Festivals
The brilliant fall colors, crisp weather, and the smell of apple cider signals time for another Southern Indiana tradition: fall festivals. There are festivals throughout the state, and you'll find a more complete listing in our Calender of Events. But here are a few that we think deserve a closer look. Whether you can make it to any of these, or the hundreds of others, we hope you'll have a chance to get out an enjoy some of Indiana's fine fall festivities.
The Hoosier Heritage Fall Tour gives visitors a chance to see some of the most scenic parts of Indiana - the Ohio River, the Hoosier National Forest, and Perry County's scenic highways. On the second, third and fourth weekends in October, Perry County hosts special events throughout the county. The second October weekend these will take place in Bristow, the third weekend at Derby and Rome, and the fourth weekend at Cannelton. Be sure to include a scenic drive to capture the full splendor of Indiana's deep south. There are two self-guided auto tours through Perry County, one which covers 80 miles in the western half of the county, and another which starts in historic Cannelton and covers the eastern half of the county. You can also combine these with the Ohio River Scenic Route or National Scenic Byway. Call the Perry County Visitors Bureau at 812-547-7933 or see www.perrycountyindiana.org.
Evansville's West Side Nut Club Fall Festival is said to be the second largest street festival in the United States. This year's festival is October 2nd through 7th and will be their 79th annual festival, held on four blocks of West Franklin Street on Evansville's West side. The festival includes over 120 local nonprofit food vendors, rides, games, talent shows, a queen contest, tug of war, parades, and nightly entertainment. If you can't go in person, you can visit the Nut Club Fall Festival via their "Nutcam", which is a live interactive camera broadcast of the festival. The festival was organized in 1921. All the proceeds from the festival are donated to childrens' charitable organizations. For information see the web site at www.nutclub.org.
The King, Queen and their Court of the Aurora Farmers Fair

Nominated as one of the Best Annual Fairs by SouthernIN.com readers, the Aurora Farmer's Fair is the Oldest Street Festival in Indiana and will celebrate its 92nd year this year. Dates will be October 4-7th. The fair, which will also feature exhibits, free stage shows, and a giant two-hour parade, began as an agricultural show in 1908 and has since grown into a four-day community extravaganza. Last year's Farmer's Fair attracted more than 100,000 people over the four-day period.

"The Aurora Farmer's Fair is an event that is enjoyed by both Southeastern Indiana residents and visitors alike," said Debbie Smith, Director of the Dearborn County Convention, Visitor & Tourism Bureau. "Whether this is your first time in Aurora or you're a lifelong resident, you're sure to have fun at the fair." The Aurora Farmer's Fair kicks off Wednesday evening with opening ceremonies and the King and Queen contest. Thursday's highlights include live musical performances, while Friday features the ever-popular pet parade and baby race. On Saturday, typically the biggest day of the fair, the parade takes center stage in the morning, complete with marching bands, floats, antique vehicles and more. "The fact that the fair has endured throughout the past 92 years testifies to the strength of the tradition surrounding this event. Aurora is full of small-town civic pride, and the Aurora Farmer's Fair really reflects that sense of community spirit." For additional information on any or all of the events occurring during the Aurora Farmer's Fair, please contact the Dearborn County Convention, Visitor & Tourism Bureau at 800-322-8198.

Wilkommen! Seymour will host its famous Oktoberfest on October 5-7 this year. As usual, men will wear lederhosen and polka will fill the air as steins clink together in the biergarten. There will be vast rows of brightly decorated shops and plenty of brats bursting from the food vendors. During Oktoberfest, downtown streets are closed and renamed to whatever their German counterparts may be while local residents and tourists enjoy the atmosphere. The Oktoberfest includes a cakewalk, entertainment, artists, crafts, and plenty more. The parade will be at 12:30pm on October 6th. Auf wiedersehem! Call 888-524-1914 or visit www.jcvcb.com.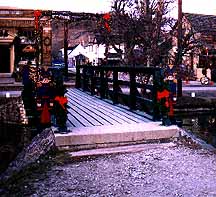 Metamora at Christmas!

This year Metamora will hold its 32nd Annual Canal Days on October 6th through 8th. Hundreds of outside vendors, artists, craftsmen and thousands of visitors make this one of Indiana's most popular festivals. One hundred local merchants will join with guests to create an outstanding three day Fall event. Located right on the Whitewater Canal, visitors can also take a Whitewater Valley Scenic Railroad train ride, a carriage ride, or see the Grist Mill. This historic canal town is also home to the over 30 historic sites or National Register Historic Buildings. Call 765-647-2109 for more information on Metamora.

On October 7th, Vevay will hold The Legend of Sleepy Hollow Celebration. This annual fall celebration includes "Echoes of the Past Cemetery Walk" - meet and talk with historic characters at the cemetery from 1-3pm. This celebration is not intended to frighten visitors, but to give an opportunity to meet historical local figures. Join in the "Headless Horseman Contest" where children delight in searching for the hidden "head" of Washington Irving fame. A map of local stores providing clues to the hiding place can be picked up at the Welcome Center in the lobby of the Historic Hoosier Theater. There will also be a farmer's market, arts & crafts, and all the beautiful scenery that autumn brings. Other events in Vevay this weekend include a car show at Riverfront Park, and the Plum Creek Anthology, which includes vignettes from Switzerland County History with live performances Friday and Saturday evenings and a Sunday matinee in the Historic Hoosier Theater. The Custom Built Log Home Tour will take place on Saturday, which will feature seven log homes nestled throughout the rolling hills of Switzerland County. For information on any of these events call 1-800-HELLOVV.

Scots Festival, in New Harmony, is a family festival celebrating New Harmony's historical links with Scotland. This festival will open with Scottish dancing by the Cairngorm Celtic Dance Company. Celtic balladeer Charlie Zahm and fiddler Tad Marks will follow along with Celtic folk singer Ed Miller and fiddler John Taylor. The 25-member Louisville Bagpipe Band will add a touch of the "Great Highland War Pipes" to the festival. Each group will perform three times on Saturday and twice on Sunday, October 14th and 15th.

Children may have their faces painted, participate in child-sized Scottish athletics, make flags or crowns, or putt a golf ball to experience this original Scottish game. Admission to the "wee bairns" area is $1.Demonstrations and competitions of traditional Scottish athletic events include displays of strength and endurance like tossing the caber and throwing weights. Highland cows, Clydesdale horses, and the dogs of the British Isles will on display. Clan tents will provide information and research options for participants throughout the festival. Willard Library will offer genealogy seminars on both days. Other special events will include A Ceilidh, a Scottish party with live entertainment, to be held 8 p.m. on Saturday at Thrall's Opera House. Admission is $10 per adult and $3 per child 12 years and under. A proper Scottish tea will be held at 3 p.m. on Sunday at the Rapp Granary. Admission is $10 in advance and $12.50 at the door. Seating is limited.

For more information, call the Historic New Harmony office at 812.682.4488. Festival hours are from 9 a.m. to 5 p.m. on Saturday, October 14, and from 11 a.m. to 5 p.m. on Sunday, October 15 on the grounds of the Atheneum/Visitors Center in New Harmony. Admission is $5 per person per day. Children 12 years and younger are admitted free.

Harvest Homecoming, in New Albany, is one of Indiana's oldest and largest festivals and was nominated as one of Southern Indiana's Best Annual Fairs in our September issue. This year the festival will run from October 7-15th in downtown New Albany and various locations. On October 7th the parade Oct. 7th starts at the corner of Vincennes & Spring. There are also numerous sporting events, entertainment, contests for all ages, arts & crafts and much more. There are 350 food and crafts booths! Call 812-944-8572.

See the world in one weekend...Ethnic Expo Festival, Columbus, Indiana on October 13th through 15th. This festival was also nominated in SouthernIN.com's "Best Annual Fair" category. See the nations of the world, enjoy delicious ethnic food, music and dancing, international bazaar, a big parade, special children's activities, a Volksmarch and fireworks! The host country this year is Greece. The festival will take place from 5:00 p.m. to 11:00 p.m. on Friday, from 11:00 a.m. to 7:30 p.m. on Saturday, and from 11:00 a.m. to 5:00 p.m. on Sunday. The parade will begin at 11:00 a.m. and the fireworks will take place at 8:00 p.m. on Saturday. The admission is FREE. For more information, contact (800) 468-6564.