Winners:
Caper's
Nominated:
Charlie's Smorgasborg
Grisante's Casual Italian Restaurant
---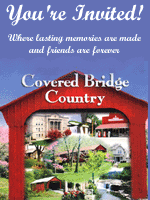 Best of Southern Indiana
Best Casual Dining
Four restaurants tied for the category of Best Casual Dining. These are Caper's, in Tell City; The Overlook Restaurant, in Leavenworth; The Railroad Inn, of Milan; and Yesterday's Pub in Brazil. Several other nominations are also listed.
Caper's, in Tell City - Caper's is housed in a National Historic Site listed building. It was built in 1894 and was first home to the Oddfellows club, was later a men and boys store, a JC Penny's, and now a restaurant for seven years. Caper's has original woodwork, a tin ceiling, and brick walls, and is decorated with an eclectic mix of salvaged items. There is a huge steam-boat steering wheel in the pane-glass window in front, a moose head on one wall, a swordfish donated by one of the patrons on another, and a canoe behind the bar. The bar came from an old general store in Kentucky. The staff is friendly and the atmosphere is relaxed and fun. They offer live music on Friday and Saturday nights. "The food was great!" says one reader. "The prices were very reasonable, and the shrimp was the jumbo-est jumbo shrimp I've ever seen in a restaurant!" So next time you're in Perry County, be sure to stop at Caper's! You won't be sorry. 701 Main Street, Tell City. 812-547-3333.
The Overlook Restaurant, Leavenworth - Perched high on a bluff overlooking the river, The Overlook offers what some call "the best view along the entire Ohio River. " Diners can watch boats and barges travel down the river while enjoying country-style cooking complete with piping hot biscuits. Or just enjoy the view from the deck lined with rocking chairs before or after your meal. Voted one of the top 10 restaurants in the book, "Indiana's Favorite Hometown Restaurants: Where the Local Folks Like to Eat ", the Overlook has been in business for 50 years. The menu is highlighted by their famous fried chicken, country ham, biscuits, and homemade pies baked daily. There is also a small gift shop adjoining the restaurant. The Overlook provides a perfect gathering place for birthday parties, anniversaries, wedding rehearsals or business meetings . Open every day throughout the year except Christmas and Christmas eve. Hours are 8am-9pm. 1153 West State Road 62, located on the Ohio River Scenic Route. 812-739-4264.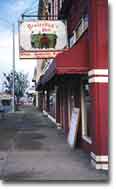 Yesterday's Pub in Brazil

Railroad Inn, Milan - Milan's heritage as the 1954 basketball championship team is celebrated in this rustic country restaurant. Located in the heart of the small town of Milan, it is well known by people throughout Indiana, Ohio, and Kentucky. "It's one of those small towns where everybody knows everybody, but is still very friendly." The restaurant is decorated with railroad souvenirs as well as pictures from Milan's state basketball championship in '54, which was featured in the movie "Hoosiers". They are known for their salad bar which includes all homemade foods, and for their fried chicken and cod. Open 11am-8pm Sunday through Thursday, Friday and Saturday until 10:00. Located at 101 Car Street, in downtown Milan. 812-654-2800.

Yesterday's Pub, Brazil - Located on historic US 40 in Brazil, Yesterday's Pub and Family Dining features steaks, sandwiches and cocktails in a comfortable, friendly setting. All of the beef served is black Angus, and dinners feature such extras as choice of three different homemade breads, several homemade salad dressings and sauces, and their own homemade pork tenderloin with their special recipe breading. The walls are wood paneled, and old movie and music memorabilia and antiques grace the walls. There is also a second story balcony which overlooks National Avenue. Open Monday through Friday at 11am, Saturday 11:30am. Closed Sunday. 101 East National Ave., US 40 East. 812-446-8801.

Other Nominees

Charlie's Smorgasbord, Vincennes - Known for their "Southwestern Indiana style comfort food", the Winkler family has been serving hungry diners in Knox County since 1951. They are known for their buffet, which features fried chicken daily, plus other meats like pork chops, catfish fillets, meatloaf and roast beef. Guests are especially fond of the cobblers, which include apple, peach, blackberry and cherry. They also offer a huge salad bar and soups every day. Charlie's is open 7 days a week for lunch and dinner. 630 Kimmell Rd., Vincennes. 812-882-5115.

Chicken Place, Ireland - Fried chicken is the specialty of the house! The Chicken Place also serves steaks, tenderloins, country ham, hamburgers, shrimp and oysters. Other favorites are the German fries (a cooked potato sliced and fried with onions), German potato salad and a variety of other salads. Order your fried chicken by the piece, by the quarter or half. The Chicken Place is open for dinners Monday through Saturday from 4-9pm and Sundays 3:30-9pm. Closed Sundays. 4970 West SR 56. 812-482-7600.

Fat Bellies Deli, Indianapolis - As one might guess, Fat Bellies is so named because of the huge portions they serve. Although they just opened in the summer of 2000 on the south side of Indianapolis, the owners bring 30 years of restaurant experience with them from Washington DC. Fat Bellies offers a very diverse menu, with their specialty being barbecue, "from the ribs to pulled pork sandwiches". They also offer Mexican food, Italian food, subs, salads, and more. They offer free local delivery and carry-out. Fat Bellies is open 11am-10pm Monday through Saturday and Sundays noon-8pm. Located at the corner of Stop 11 and Emerson Avenue. 317-884-1940 or fax 317-884-1967.

Gray Brothers Cafeteria, Mooresville - "Everybody in Southcentral Indiana loves Gray Brothers Cafeteria!" It's a favorite, and worth a drive to Mooresville. Located on highway 67. Open 11am-9pm daily. 555 S. Indiana. 317-831-3345.

Grisante's Casual Italian Restaurant, Bloomington - Made-from-scratch lasagna, ravioli, cannellonis and sauces, combined with friendly hospitality make Grisanti's one of the best Italian restaurants in Southcentral Indiana. Grisanti's treats all their guests as if they were regular customers who come in every day. All meals are served with a big salad bowl with Grisanti's Italian dressing and warm garlic bread. The atmosphere is clean, cheery and comfortable. A favorite of one reader is the chicken and spinach cannelloni with a ricotta four cheese blend. Follow that with homemade brownie cheesecake (cheesecake swirled into a brownie and topped with chocolate syrup, walnuts, whipped cream and ice cream) and you will leave in a state of gustatory bliss. Open 7 days a week 11am-10pm every day except Sunday, when they close at 9pm. 850 Auto Mall Rd., Bloomington. 812-339-9391.

Jim Carey's Grill, Linton - "It is always friendly, clean, and you can get a burger old fashioned-ly grilled." You'll feel comfortable "in work clothes or whatever you show up in", says one reader. The Grill is a full-service restaurant with the full menu being available the whole time they're open. They offer everything from breakfasts to hamburgers to full dinners. Open Monday through Thursday 5am-7pm, Friday and Saturdays 5am-8pm and Sundays 5am-2pm. Located at 60 Northeast A Street. 812-847-9010.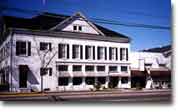 M. Mogger's in the E. Bleemel Building in Terre Haute
M. Mogger's, Terre Haute - "M. Mogger's is one of our favorite places in Terre Haute", says one enthused reader. "Not only will the surroundings keep your interest, but the food and beer are excellent". M. Mogger's is in the E. Bleemel Building, which was built in 1837 and used as a brewery until 1874. Furnishings have been salvaged from a variety of area landmarks. Champagne Velvet (brewed by the Terre Haute Brewery) signs line the walls and the front bar came from the old Elk's Building. One wooden beer cooler was dismantled and rebuilt from Marshall Illinois, and general store counters came from an old General Store on US 40 near Cloverdale. A Canal Cooler was once used to temporarily store beer along the canal dock system on the Wabash and Erie Canal. M. Mogger's is full of interesting historical artifacts - but if you want to see more the E. Bleemel Flour and Feed museum is also housed in the same building. The food - well the food is great too. M. Mogger's offers a full menu of steaks, chicken, appetizers and more, all at reasonable prices. They serve over 90 Microbrews and imported beers, and offer live music Tuesdays through Thursdays. Located at 9th and Poplar Streets. Open Seven days a week at 11am. 812-234-9202.
Sherman House, Batesville - The Sherman House Restaurant is known for its German food, and its home in a unique, century old inn. They feature international cuisine including German specialties, fresh seafood and steaks. The Sherman house is one of the oldest buildings in Batesville, and was once a coaching tavern. The hotel opened its door to guests in 1852. In 1923 the Sherman House underwent renovation, but retained most of the original timber frame of yellow poplar girders, which are still in place. In 1953 the old-world decor of the Old Vienna Cafe was created from the designs and sketches made in European cafes. Hoosier artist Harold Hancock rendered the sketches into murals. The Sherman House is located at 35 South Main Street in Batesville, and the hours are Monday through Thursday 6:30am-9pm. Fri. & Sat. 6:30am-10pm, and Sunday 6:30am-8pm. 812-934-2407 or 800-445-4939.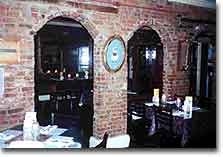 Whisky's Family Restaurant in Lawrenceburg. Photo by Pat Rahe
Whisky's Family Restaurant, Lawrenceburg - Housed in adjoining 100+ year-old buildings, Whisky's family restaurant has been serving their specialty ribs in a casual atmosphere for 16 years. A favorite side-dish is the "peanut slaw", a creamy cole slaw topped with dry-roasted peanuts, a Whisky's original recipe. Other items are baby back pork ribs, steaks, seafood, pastas, sandwiches, appetizers, and a children's menu. Customers enter Whisky's through a foyer which adjoins two of Lawrenceburg's older buildings. A lit courtyard gives diners the feeling of being outside while still enjoying the comforts of indoors. Located at 334 Front Street, Lawrenceburg, right off of US 50. 812-537-4239.
Windell's Cafe, Dale (Spencer County) - Once featured in Midwest Living, Windell's has been a Dale landmark since 1947. "People grew up coming here and now the grandchildren have grown up and come back with their children!" says owner Betty Jenkins. She describes Windell's as a homey restaurant where you can get all homemade food like chicken and dumplings, sauerkraut and ribs, fried chicken, mashed potatoes and fresh vegetables, homemade soups and coconut pie. The horseshoe bar is also a popular watering hole, especially with the locals who get together and discuss what's going on. The Jenkins have owned Windell's for the past ten years. They are open daily from 6am till 8 or 9pm. They also offer catering and serve family style dinners for gatherings. Located at 6 West Medcalf, Dale. 812-937-4253.