Henry County
Henry County, with its many sites and warm hospitality, offers visitors a great mini-vacation destination! After spending a full day here, I found I want to come back for more.
Travelers from all over the country come to Henry County. It is home to several of the finest antique shops in the nation, the Wilbur Wright Birthplace and Museum, the Indiana Basketball Hall of Fame which celebrates Indiana's famous basketball history, and for train buffs, the CKS Railroad offers one hour train rides through the countryside. After the sun goes down visitors can take in a show at the Guyer Opera House in Lewisville, then relax at a bed and breakfast or hotel.
US 40 crosses the southern part of the county. Traveling east to west, you will pass through serene countryside and small towns, the first being Straughn. The Straughn Community Center offers live bluegrass the last Saturday of each month.
The next town is Lewisville, home to the Guyer Opera House which offers quality entertainment for the family throughout the year, plus two antique shops, Apple Butter Creek Antiques and the Lewisville Antique Mall, and the newly restored Houston Brick Community Center, all in a beautiful setting.
Knightstown Hoosier Gym
In 1985 Knightstown, Indiana made it to the big screen. The movie HOOSIERS, starring Gene Hackman, was filmed in the Old Knightstown Academy gymnasium. Local townspeople were in the movie, filling the stands and cheering, all dressed in their 1950's attire.
The movie was based on the true story of the 1954 Indiana state basketball championship in which the small Southern Indiana town of Milan beat the favored Muncie Central, when Milan's Bobby Plump hit the winning shot. The game has been a landmark in Indiana basketball history. Since the advent of class basketball, a small school like Milan could not be paired up with a bigger city school today. Bobby Plump now has a restaurant called Plump's Last Shot in Broadripple, Indianapolis (6416 Cornell Avenue where their slogan is "There's always time for one more".)
Back to the Knightstown Hoosier Gym. In 1993 a town hall meeting was held to try to save the gymnasium. Thanks to the dedication of the people and lots of volunteered hours, the Hoosier Gym has now been preserved, and is used by the whole community. After-school programs allow youth to play basketball in the gym and games in the rec room. Church basketball leagues use the gym, and Head Start uses it during the mornings. Weddings are sometimes even held in the Knightstown Hoosier Gym, as it holds a special place in the hearts of the community.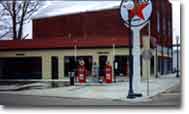 Trumps' Texaco Museum

Trumps' Texaco Museum
Trumps' Texaco Museum offers a nostalgic trip to the 1950's, when US 40 bustled with cross-country travelers. The museum is housed in an old service station, which was once the location of Tydol Gas Station. Owner Bruce Trump's grandfather, Harold Trump, ran the gas station from 1937 to 1941, and Bruce's father and uncle operated a Texaco station on US 40 from 1954 to 1978. Bruce worked at his dad's station all those years. When his father passed away in 1990, Bruce sorted through years' worth of items and memories and began collecting Texaco memorabilia. The museum continues to grow. Bruce has just purchased a 1924 Maxwell pick up truck with a stake bed, which will be a popular addition when restored.
Trump's Texaco Museum had its grand opening in 1996, and has since gained worldwide recognition. It kicked off with a Summer Classic Car show, which was one of Henry County's biggest attractions. The Car Show has become an annual event, taking place the last Saturday before Labor Day. The show is complete with 50's music and a DJ, and last year showcased over 600 cars. The trophies themselves have been made by local coppersmith Michael Bonne. This year the show will be August 26th. For information, call the Knightstown Chamber of Commerce (800) 668-1895.
Wilbur Wright Birthplace and Museum celebrates the life of the Wright brothers, who were the first to build and fly an airplane in 1903. Wilbur Wright was born in northern Henry County, where the museum now features a life-sized replica of the Wright Flyer, made to the exact specifications of the original. It is believed that this replica would actually fly. This site is run entirely by volunteers, who are devoted to preserving the legacy of Wilbur Wright.
The interpretive center, built around the replica of the Wright Flyer, provides a look at what the Wright brothers went through to realize their dream. Visitors can read the actual diary of the Wright brothers' father. The home has been reconstructed and restored to its 1860's appearance, and includes some belongs of the Wright family.
This summer the Wilbur Wright Birthplace and Museum will celebrate with a festival on June 16th, and on July 15th actors from the Guyer Opera House will do period interpretations. Call 765-332-2495 for more information.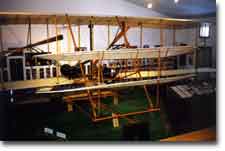 A replica of the plane that Wilbur Wright and his brother Orville made history with at Kitty Hawk
Indiana Basketball Hall of Fame
Banners from all of Indiana's State Champions are displayed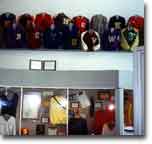 Letter jackets from Indiana's High Schools are also proudly displayed.

If there's one thing Indiana is famous for, it's basketball. Having grown up in Indiana, going to Friday night basketball games and weekend tournaments was just a part of life. For anyone who has experienced the excitement of Indiana basketball, the Hall of Fame in New Castle will bring back that thrill.
Visitors can look up stats on 1,100 different Indiana high school basketball teams, and see school letter jackets from A to Z. There are old basketball treasures from the 1920's, and newer banners, trophies and uniforms. The Hall of Fame features Indiana basketball's most influential people, with drawings and biographies of each honoree.
The Indiana Basketball Hall of Fame draws people from all over the world who are fascinated by Indiana's great basketball legacy. The NCAA championship, to be held in Indianapolis this April, is expected to draw thousands to Henry County, perhaps in hopes of learning some secrets of Indiana basketball. For information call 765-529-1891.
These are just a few places we visited in Henry County. There are plenty of other shops, museums, and outdoor areas for visitors to enjoy. Summit Lake State Park, with its 800-acre lake, is also enjoyed by nature lovers for hiking, fishing, boating and swimming.

Shelves of Michael Bonne's one-of-a-kind copper, brass, tin and ironware.

Coppersmith Michael Bonne has a shop in Knightstown, which features his one-of-a-kind copper, brass, tin and ironware. These hand-made pieces are not only works of art, but practical pieces such as cookie cutters which are sold by Martha Stewart through Martha by Mail, and other national retailers. Visitors can tour the shop, pound their own ornaments to take home, or of course buy the works of the professional! This and other shops throughout the county assure you won't have to go home empty-handed.
A drive along Indiana's National Scenic Byway, US 40, would not be complete without a stop in Henry County, so be sure to plan to spend some time. You'll be glad you did!
For more information on visiting Henry County, call the Henry County Convention and Visitors Bureau at 800-676-4302, or visit www.henrycountyin.org.