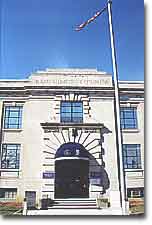 The Land of Limestone exhibit is housed in the former headquarters of the Indiana Limestone Company,
Lawrence County:

Its All In The Stone
What images come to mind when you think of Southern Indiana? What does Southern Indiana look like? Do you think of curving roads with limestone outcroppings, old quarries now used as swimming holes, or unexpected caves and sinkholes? The geography that characterizes Southern Indiana is epitomized in Lawrence County. What makes Lawrence County unique? It's all in the stone.
Indiana's limestone can be seen in buildings all over the world. The Empire State Building, The Pentagon, Chicago's Tribune Tower and countless other courthouses, post offices and churches were made of Indiana limestone. Amazingly, the stone for which Indiana is famous is mostly located in a very small strip just two miles wide and 30 miles long. Bedford is at the heart of this "stone belt".
To learn the story of Indiana's stone, start at Bedford. A good place to be introduced to the building stone industry is the Land of Limestone exhibit at the Oakland City University. This is a permanent display housed in what was once the headquarters of the Indiana Limestone Company. Photographs and historical news accounts take visitors through the techniques used in quarrying from the early 1900s to the present. You may be surprised by photos that show just how widely Hoosier limestone has been used. Did you know Indiana limestone was used in the Washington National Cathedral, the Waldorf Astoria Hotel, The Biltmore and New York's Grand Central Station? The Land of Limestone exhibit itself is in a 1923 Beaux arts style building that was home to the Indiana Limestone Company that came about as a merger that united 24 independently-owned quarries and mills.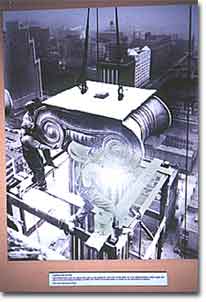 This photograph of Indiana Limestone being used in construction can be seen at the Land of Limestone Exhibit.

A Brief Intro to Indiana Limestone
What makes Indiana limestone so special? Salem limestone, as geologists know it, was deposited 340 million years ago when a shallow sea covered the area. This strata, or layer of Salem stone is ideal for building because there are so few impurities: it is composed of fine fossil shells the size of grains of sand held together by a cement of calcium carbonate. Because of this, Salem limestone is smooth and doesn't chip or break apart easily. And because the layer of Salem stone has not undergone significant upheaval from the Earth's movement, the strata of Salem limestone is up to 80 feet thick. It is possible, with enough lifting power, to quarry one solid piece of stone 5 feet wide, 13 feet high and 30 feet long. Once it reaches a stone mill it can then be planed, cut, sculpted or turned on a lathe to make a pillar.

Visiting Lawrence County
The Lawrence County Visitors Bureau offers several self-guided tours to help you get the most out of your visit. These are easy to follow and ensure that visitors don't miss any of the attractions. The points of interest and maps are included for each tour, so you can either follow a full tour or pick and choose attractions that you want to see and combine tours. Audiocassettes are also available from the visitors bureau.

Touring Lawrence County
There are several walking tours of the town of Bedford, three different driving tours of the county and a walking tour of the town of Mitchell. One Bedford Walking Tour focuses on architecture, another on Bedford's first planned residential area, and one on the Green Hill Cemetery.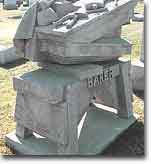 Fellow stoneworkers memorialized Lewis Baker with this stone carving of his workbench.

The Greenhill Cemetery has some of the most creative stone carvings you are likely to see. Once Indiana limestone was discovered, some of the best stone cutters in the world flocked to this area. As one would imagine, people whose lives had revolved around stone would want only the finest carvings to memorialize their loved ones. The gravestone over Lewis Baker's final resting place was carved by his coworkers and depicts his work bench exactly as he left it the day he unexpectedly died. His whisk broom and tools lay immortalized in stone on the bench.

The Mitchell Walking Tour features the architectural features and interesting buildings in the town of Mitchell.

Three color-coded tours of the county take scenic routes along backroads, through small towns, tunnels, a covered bridge, and other attractions. The Blue Tour is primarily a scenic tour and covers the northern part of the county. This tour includes the Empire Quarry, from which stone for the Empire State Building was used. It also visits the towns of Needmore, Popcorn, Oolitic and Heltonville, and features stops at the Turner Doll Factory, the Avoca Fish Hatchery and more.

The Red Tour features the Grissom Monument, Bluespring Caverns, Williams dam and covered bridge, and the town of Mitchell. Astronaut Virgil Grissom, who died in Apollo I was a native of Mitchell.

Bluespring Caverns
If you're visiting Lawrence County during summer months, plan to spend some time at Bluespring Caverns. Bluespring Caverns provide an inside look at another unique aspect of this area's geology. When limestone comes in contact with naturally acidic rain and groundwater, crevices slowly develop and eventually carve deep valleys in the limestone. Streams flow on the surface then disappear into what become underground streams, caverns and sink holes. This pattern of caves, sinkholes and underwater rivers is known as karst topography and is a rare phenomenon worldwide, yet over 400 caves are known to exist in Southern Indiana.

Bluespring Caverns has over 20 miles of passages and is among the ten largest natural tunnels in the world and the two largest in the United States. This cavern seemed to have appeared overnight. In the 1940s a pond on George Colglazier's farm just disappeared one night after a heavy rain. This "swallow hole" provided access to an underground tunnel. Visitors today can explore this underground wonderland by boat. Bluespring Caverns Park is open weekends in April, and every day from May 1st through October 31st.

The Green Tour also features unique geography and landscape. The Hemlock Nature Preserve is rich in rare plants, massive hemlock trees, fossils and geodes. On Devil's Backbone Road the topography of the area is felt as you drive along a narrow stretch of road that drops off sharply to reveal the White River on one side and Guthrie Creek on the other - each several hundred feet almost straight down.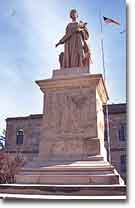 Miss Indiana statue on the lawn of the Lawrence County Courthouse..

Spring Mill State Park
Another stop on the Green Tour is Spring Mill State Park. Spring Mill is a favorite park among Hoosiers, with its old operating grist mill and Pioneer Village. The Spring Mill Inn was built between 1937 and 1939 of native stone from the area. A nature preserve at the park is one of the few areas left in the United States that has never been timbered. A walk along the trails also reveals old lime kiln sites and a limestone quarry.

Spring Mill State Park's geography is also representative of the area. Twin Caves was named after two collapsed sink holes, known as "swallow holes" exposed a cave in two places.

A weekend or a day spent in Lawrence County is one well spent. While it is known as the limestone capital of the world, this area offers a diverse range of attractions and is rich in history and natural beauty. Some other cultural attractions are the Antique Auto and Race Car Museum, the Lawrence County Museum, and the Mitchell Opera House.

The Mitchell Opera House
The Mitchell Opera House was completed in 1906 as a county meeting hall. Ten years later the hall entered the world of show business when it became a stop on the Vaudeville circuit. Harry Blackstone and John Phillip Soussa performed at what then became known as the Opera House. During the 1970s the building was sitting vacant when an Indiana University theater student, Doug Hartzell, wrote a paper on the Mitchell Opera House. His professor was inspired and encouraged him to launch an effort to save the historic structure. Through Opera House, Inc., and the hard work of many committed people, the Mitchell Opera House was reopened in the mid1980s and now hosts regular programs.

Providing the Foundation
No, you won't see skyscrapers or an Empire State Building in Lawrence County, Indiana. But you'll see the land that contributed as much as any to the appearance of this nation. Lawrence County provided the foundation for the rest of the country, and while doing so has retained its own spirit and identity.

For more information on Lawrence County visit www.limestonecountry.com, call 800-798-0769 or write the Lawrence County Tourism Commission at 1116 16th Street,Bedford, IN 47421.

Sources for this article included the Lawrence County Visitors Guide, "A Short History of Indiana Limestone" by Bill McDonald (1995) and "Roadside Geology of Indiana" by Mark J. Camp and Graham T. Richardson (1999).