Harrison County
Every now and then we all get the urge to get out for a real excursion - one that offers some of the best of Southern Indiana: fantastic scenery, rich history, unique cave systems, or maybe a relaxing train ride or the excitement of a riverboat casino. Harrison county could be just what you're looking for in your next weekend getaway.
We first visited Harrison County in 1999 as part of the Ohio River Scenic Route driving tour. This year we returned to take a closer look at what the county has to offer. Join us as we visit Corydon, Indiana's first State Capital, the Corydon Scenic Railroad, Zimmerman Art Glass Factory, Squire Boone Cavern and Village, and the world's largest gaming vessel, Caesars Indiana Riverboat Casino.
Historic Corydon
Corydon was important in our country's and state's early history. Corydon was the Indiana state capital from 1816 through 1825. The State Capital Building is a two-story limestone structure built between 1814 and 1816. In 1929 the building was beautifully restored to reflect life in the 1800s. The First State Office Building and the Constitutional Elm, in the shade of which the state's first constitution was drafted, are other sites in Corydon's downtown historic district.
The only Civil War battle ever fought in Indiana, the "Battle of Corydon" took place in 1863. Today the Battle of Corydon Memorial Park commemorates this period in history when Confederate General Morgan led a raid through Indiana and fought the 6th Division of the Harrison County Home Guard.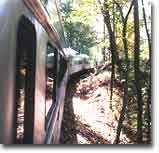 The Corydon Scenic Railroad winds its way through a wooded section of Harrison County
Corydon Scenic Railroad, Since 1883
There are those who believe there is no better way to view the world than from a train. The slow pace through winding terrain, accompanied by the clack of the wheels on the tracks, allows passengers to relax and enjoy the ride.
The Corydon Scenic Railroad offers a 16-mile, 90-minute excursion through the scenic hills of Southern Indiana. Passengers are told about the region's unique geography with its sink holes and caves, and are also entertained by Elvis impersonator Otis Berry. An ordained minister, "Elvis", or Reverend Berry has even performed a wedding on the train.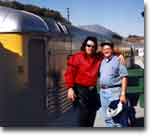 Railroad co-owner Richard Pearson poses with Otis Berry a.k.a. "Elvis"

The Corydon Scenic Railroad is actually part of Indiana's oldest short line railroad in continuous operation: the Louisville, New Albany and Corydon Railroad. Originally built in 1883 as a short line railroad, it has been used to transport freight between Corydon and Louisville, New Albany and St. Louis.

The Louisville, New Albany and Corydon RR is still a thriving short line railroad, handling around 4,500 freight car loads a year. The current owners added the passenger train in 1988, which now carries up to 20,000 visitors a year. The Corydon Scenic Railroad runs from Memorial Day through October. While many of the nation's railroads have been abandoned, Corydon's railroad has flourished and continues to provide a service to the community. Call 812-738-8000 for information.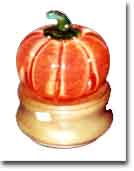 A pumkin made of glass is one of the many fruits and vegetables you can find at Zimmerman Art Glass Factory.
Zimmerman Art Glass Factory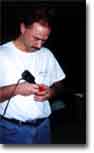 Each piece is hand-signed, here by Kerry Zimmerman

Glass sculptures Bart and Kerry Zimmerman are brothers who have carried on their family's trade which began in 1942 by their grandfather, Victor. The Zimmermans are busy in their studio, but welcome visitors to watch them create beautiful glass works such as paperweights, lamps, vases, bowls, Christmas ornaments, and the popular decorative fruit.

The Zimmermans are known nationally for their beautiful glass sculptures, and thousands visit the showroom each year. Call 812-738-2206.

Squire Boone Caverns and Village

Squire Boone Caverns were named after Squire Boone, brother to the famous Daniel Boone, who discovered them in 1790. A casket that is supposed to contain his remains can still be found in one of the many caverns. These caverns are now accessible via lighted walkways and guided tours. You can see the million gallons of water that rush through underground rivers and waterfalls on one of these tours.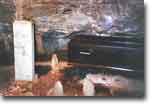 These are apparently the mortal remains of Squire Boone

In addition to the caverns themselves there are also a host of other interesting activities at Squire Boone Caverns and Village. You can be transported back in time to when corn was ground by a water mill and soap and candles were made at home. Demonstrations of the working water mill and pioneer crafts can be seen during the summer hours at the village. Visitors can also become prospectors for a day and pan for "gold" and gems at the sluice or young geologists can uncover 60-million-year-old fossils of anient life at the Fossil Dig.

The guided, one-hour tours of the caverns leave every 30 minutes from Memorial Day weekend through Labor Day. The rest of the year, scheduled tours are at 10:00, 12:00, 2:00 and 4:00 EST. They are closed Christmas, Thanksgiving, New Year's Day and weekdays in January and February. The caverns stay a constant 54 degrees year-round so a light jacket or sweater is recommended. Harrison County is rich with elaborate systems of caves and caverns and visitors can also visit nearby Wyandotte Cave and Marengo Cave National Landmark.

Call (502) 425-CAVE for recorded information or (812) 732-4381 to reach the ticket counter and office.

The Glory of Rome, the world's largest gaming vessel is a four-story 450 foot long and 100 foot wide riverboat casino that boasts 140 gaming tables, 2800 slot machines, and 7 themed casino areas. If you're interested in gaming there is no need to take a long and expensive trip to Las Vegas or Atlantic City, a short drive down I-65 will get you to all the gambling action your heart desires.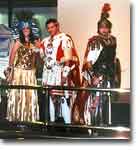 Prepare to be greeted by Roman characters when boarding the riverboat.

In addition to the gaming boat itself, the Caesars Indiana Casino complex also has great restaurants and gift shops where you can enjoy your non-gaming time in elegant style. Visitors find themselves reliving the glory and opulance of the ancient Roman Empire and the decor of the entire complex works very hard to create that feeling.

Not being experienced gamblers, we confined ourselves to some very modest gaming at the quarter and nickel slots, but we must confess that we actually walked out of the casino with more money than we came in with. Of course we can't promise you the same luck, but you're sure to have fun trying.

Call toll-free 1-888-Roman-4-U or visit their web site at www.caesars.com/indiana/win. Gaming begins at 9 a.m. and last cruise boards at 1 a.m. on weekdays and 3 a.m. on weekends. You must be 21 years of age or older to board.

Visiting Harrison County

Harrison County provides some of the most diverse entertainment, as well as magnificent scenery in Southern Indiana. From the fast-paced, high-stakes action at Caesars Riverboat Casino to the tranquil ride aboard the Corydon Scenic Railroad, we're sure you'll enjoy a trip to Historic Corydon and Harrison County. Call 1-888-738-2137 or visit www.tourindiana.com.