Morel Madness:
Mushroom Hunting in Southern Indiana
I will preface this article by quoting from the one lesson I clearly recall from high school biology class, "The only mushroom you can be sure is safe is the one you buy at the grocery store." For the most part, I've heeded that advice, and advise all you readers to do the same. It is true that there are deadly mushrooms, so if you aren't absolutely sure a mushroom is edible, don't eat it! If you have any doubt, consult an expert. SouthernIN.com writers are not experts.
That said, living in Southern Indiana it's easy to catch "morel madness" come spring. Morel mushrooms are some of the tastiest morsels known to man or woman, and spring brings thousands of mushroom hunters into the woods with their eyes glued to the ground. With the warm weather we've had this year, morels have already been found. So if you are an avid mushroom hunter, it's time to get out!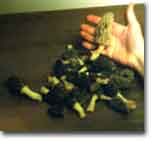 Finding Morels
Mushroom hunting is part skill and part instinct. Morels have hollow stems and bodies with pitted caps. They must have pitted caps, or they aren't morels. "False morels", whose caps look more brain-like and are wrinkly and folded rather than pitted can be deadly. There are basically two types of true morels - yellow and black morels. The season is generally April to early May in Indiana. They usually appear around the same time as May apples. Morels can range from the size of a thumbnail to around 9 inches tall, and the giants can weigh up to 5 or 6 pounds. But just knowing what to look for doesn't make them easy to find! Their grayish color camouflages them all too well in surrounding leaves and twigs.
Some people are just good mushroom hunters while others just aren't. It takes practice and a distinguishing eye. A novice can tromp over a whole patch and never see one mushroom. In our first year, my husband and I spent hours on end, day after day diligently hunting. We found locations that seemed ideal, and still we usually went home empty-handed. By last year we were thrilled to shout out, "Here's one!" "And another.. and another!" Because as they say, if you find one there have to be more.
Where to Look
There are some general rules for finding morels, but mushrooms don't always play by the rules. The best place to look is in the woods. They are often around dead or dying trees like elms. Supposedly they can be found near shagbark hickories. The black morel is said to like conifers and poplars.
A sloping hillside is also good, especially one that faces south, or along paths, fence rails, abandoned orchards and abandoned railroad beds. You get the idea - just about anywhere! My sister even found a huge yellow morel right in her manicured yard next to a downspout, where there were no dead trees or hillsides in sight. Another thing to consider is to not follow the advice of a good mushroom hunter. Most of the best hunters will never reveal their secret spots. I know of one man who always brings home a championship crop, but says he'll carry his secret to his grave. Not even his children know his secret spot.
Enjoying Morels
Morels should always be cooked before eaten. Most people soak them in salt water to kill any bugs, but a good rinsing is probably sufficient. They should be blotted dry. The traditional method of cooking them is to just dredge them in flour and saute them in butter. They are usually cut in half, since they are hollow. They can also be dehydrated and used all year if you're lucky enough to have extra! The taste is an exquisite rich, earthy mushroom flavor - indescribably delicious.
This time of year it's common to see cars pulled off the road beside parks and forests with folks scouring the woods for these edible treasures. I've even seen people searching, bags in hand, in clumps of trees in the median along Interstate 70. Be sure to ask permission before mushroom hunting on somebody else's property.
Morel Madness
Be warned that mushroom hunting is considered by many to be addictive. Signs that you're in trouble include 1) Inability to walk in the woods in spring time without staring at the ground. 2) Inability to drive past a dead tree without wanting to stop and snoop around. And 3), the most tell-tale sign is when after a day spent focusing your eyes on mushrooms, you continue to see them even after you've gone to bed and closed your eyes.
If mushroom hunting sounds fun, visit one of these Southern Indiana mushroom festivals. Even if you don't find any you can still get a taste, or even buy some to take home and enjoy.
6th Annual Morel Madness, in Metamora April 29th and 30th. Prizes awarded for largest and most morels each weekend. $15 entry fee includes t-shirt and meal. Everyone is invited to participate in the greased pig contest and chicken hypnotizing. Call 765-647-2109 for more info.
Mansfield Village Mushroom Festival/Car Show in Mansfield, Parke County, April 29th and 30th. Mushroom hunt and auction, and biggest mushroom contest. Also arts, crafts, country food. Car show Sunday only. Free tours through Mansfield roller mill. 8am-5pm. No admission charge. 765-653-4026.