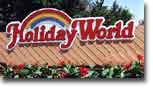 Holiday World and Splashin' Safari
in Santa Claus, Indiana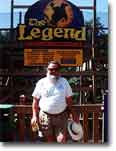 "Holiday World is one of the nicest, if not the nicest park I've ever been to," says American Coaster Enthusiast, Norm Samuelson, of California. And he should know. He's been a member of ACE for eight years and has been to amusement parks all over the country and ridden almost every coaster in California. He appreciates a good park, and says Holiday World is "clean and has nice, friendly staff who go out of their way to treat you right."

What does the coaster connoisseur like Norm think of The Legend? "Oh, it's marvelous! The only thing wrong with that coaster is it comes to an end!"

Norm tells us he's "lost track" of how many times he's ridden The Legend on his visit to Holiday World. What makes a good roller coaster? "Speed, air time, and laterals". He generally prefers wooden coasters, but says there are some good steel coasters out there too. Norm has enjoyed coasters since he was eight years old. "I was afraid each time, but when we got off I was ready to go back on. In '83 I started taking my kids and realized I really liked coasters!"

The American Coaster Enthusiasts (ACE) is the world's largest organization of amusement ride enthusiasts. This year they held their national convention at Holiday World in Santa Claus, Indiana. ACE has nearly 6,500 members in 49 states and more than a dozen countries around the world. For information go to www.ACEonline.org.

Holiday World and Splashin' Safari offers a great value for a world-class theme park that families and individuals can enjoy right here in Southern Indiana. Holiday World has become renowned among coaster enthusiasts for The Raven which is consistently ranked among the best in the world and new as of 2000 is The Legend, which is 50% bigger yet. Judging from the reaction of the members of the American Coaster Enthusiasts (ACE), who were holding their annual convention the day we visited, The Legend will certainly live up to its name. Holiday World actually solicited input from ACE when designing this phenomenal coaster.

The Raven thrills coaster enthusiasts!

Don't think this park is just for thrill-seekers though. Holiday World is very family friendly and focuses on providing a great value so you don't have to spend a fortune to take a family out for a day (or two) of fun. A new policy started last year is sure to be a hit with consumers: FREE SOFT DRINKS! That's right, and there's no catch - all visitors to the park can help themselves to free soft drinks all day long. Just look for the Pepsi Oasis stands throughout the park. Also contributing to the family value is the fact that your admission to the park includes admission to Splashin' Safari, the adjoining water park. Making this an even greater value, they also provide inner tubes for free.

The Story of Holiday World
Holiday World was originally called Santa Claus Land when it was opened in 1946 by Louis J. Koch. Koch was an industrialist in nearby Evansville and felt that a town with the name of Santa Claus needed to take advantage of the association. The concept of designing an amusement park around a particular theme was brand-new at the time, in fact Santa Claus Land became the world's very first "theme park". One of the original rides was the Freedom Train which continues to run to this day.

Bill Koch, Louis's son came to help and managed the park until the late 80s. His son, Will Koch still manages the park. We actually met Bill Koch's wife who still works at the park ensuring that it remains clean. She apparently has a very hands-on approach, because when we saw her she was carrying various cleaning supplies. One of the things that makes Holiday World stand out is the fact that it's still family owned and operated, in its third generation of Kochs.

In 1984 they decided to have other holidays represented besides just Christmas, and the name was then changed from Santa Claus Land, to Holiday World. They currently have Christmas, Halloween and 4th of July sections of the park as well as Holidog's Fun Town, a special kids' section in the 4th of July area.

The Splashin' Safari water park was added in 1993, including the Congo River, Crocodile Isle, and the AmaZOOM and Bamboo Chute water slides. The following year The Wave pool was added and in 1998 the Monsoon Lagoon was added to Splashin' Safari.

In 1995 The Raven wooden roller coaster opened in the Halloween section. This coaster was voted "Ride of the Year" and the #2 Wooden Roller Coaster on the Planet. It was also featured on the CBS news magazine "48 Hours" and The Discovery Channel. In 1999 The Raven was voted #2 Wooden Coaster in the World and the park's staff voted #1 Friendliest in the World.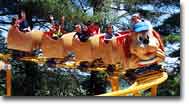 The Howler family roller coaster
In 1999, Holidog's Funtown opened in the 4th of July section of the park. Holidog's Funtown is a 3-acre area featuring Holidog's Treehouse, America's biggest family play superstructure; The Howler family roller coaster, Doggone Trail Jeep rides, Magic Waters, and more.

In 2000: The Legend wooden roller coaster opened in the Halloween section and the park began offering free, unlimited soft drinks to guests—the only park in the world to do so.
Splashin' Safari
Splashin' Safari is Indiana's largest water park and provides 18 acres of great family fun with several great water slides and other water activities that can be enjoyed by children and adults alike.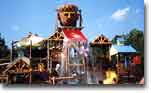 Monsoon Lagoon

One of the highlights of the park is the Monsoon Lagoon which is an interactive, multi-level, family water-play complex, with 60 ways to get wet plus four water slides. This one's popular with children, but as an adult I have to admit that I enjoyed climbing up the different levels to get to one of the water slides too. For the more mischievous patrons, there are also opportunities to get other patrons wet by pulling a cord or turning a crank.

The Wave is a state-of-the-art, 18,000-square-foot wave pool. The computer-controlled wave system creates eight different wave patterns with waves as large as 6 feet. There is also a gentle-wave-pool designed for small children adjacent to The Wave. This one is called Butterfly Bay and has a maximum water depth of 18 inches.

There was enough to do here that we didn't get a chance to try everything but there are numerous impressive-looking waterslides and a couple of additional water-based activities to enjoy here. The one slide that we tried was The Watubee which takes a large family-sized tube down a 625-foot slide with an overall drop of 60 feet. This one was definitely fun.

Keeping with their theme of providing excellent value, there are no rental fees for inner tubes for any of the rides. You can learn more details about each and every slide and activity by visiting their web site.

Visiting Holiday World and Splashin' Safari
This is an easy drive from anywhere in Southern Indiana and is within 3 hours of many major cities. You can learn more about this great theme park by visiting their web site at www.holidayworld.com, or just take our word for it and plan to get down there immediately. For smaller crowd sizes plan to visit on a weekday or in May, June or October, or on Memorial Day or Labor Day Weekend. If you want to spend more than a day so you can thoroughly enjoy everything this park has to offer there are plenty of places to stay in Santa Claus and nearby Jasper including Lake Rudolph Outdoor Resort, a campground that is adjacent to the park. Check out our Spencer County page for more information about restaurants and lodging.

Whether you're just a fan of great coasters or if you want to have a nice place to take your family, Holiday World and Splashin' Safari is an excellent way to spend a day (or two).