Down By The River
Between Evansville and Louisville there is a ton of Southern Indiana fun
Buffalo Run Grill and Gifts
The small herd of "buffalo" came up to greet us at Buffalo Run Grill and Gifts.
In the morning we had one place to visit before we went to Holiday World. This news might have been more traumatic to the kids if the place we were going hadn't been Buffalo Run.
Our children loved seeing the small heard of Buffalo (technically Bison) on the property as well as one curious ostrich. In the interest of full discloser, I have to admit our two-year-old seemed more interested in the tractor parked nearby.
While seeing the animals was fun, that was hardly the extent of the interesting things to look at. The restored log cabin where Lincoln had proportedly slept was of particular interest to me and the kids loved the authentic-looking teepee.
We also were treated to a tasted of buffalo burger. If you're like me and have been unimpressed with the dry, bland taste of buffalo burgers in the past you'll be happy to learn that they can be juicy and delicious when prepared properly. And luckily the cook at Buffalo Run knows how to do it just right.
CONTACT:

Buffalo Run Grill & Gifts
Hwy. 162 Box 28
Lincoln City, IN 47552
(812) 937-2799
Holiday World's The Legend was ranked the Number 5 best wooden roller coaster in the world. The Raven was ranked number 1.
We could easily devote this entire article to Holiday World, there is so much for a family to enjoy at this premier amusement park. And we've certainly devoted many bytes to extolling its praises on this very Web site.
Suffice it to say for the purposes of this article that it is still the most family-friendly amusement park in the world and the cleanest in the world according to the presenters of the Golden Ticket Awards, which is like the Oscars for amusement parks.
Holiday World can also boast the number 1 rated wooden roller coaster in the world, The Raven, and the number 5 rated wooden roller coaster in The Legend.
In addition to that, Splashin' Safari was ranked the world's number 2 water park by the readers of Amusement Today in 2002 and 2003.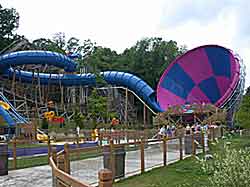 The Zinga is just one of many great water rides at Splashin' Safari.
You just can't go wrong with this gem of family fun nestled in beautiful Southern Indiana. And it's not just the big things that make this park great.
Contributing to the family-friendly atmosphere, they still have free soft drinks for all guests and also free sunscreen available in the water park. In what seems to be an increasingly mercenary world, its refreshing to see someone offering free drinks and sunscreen when they could easily charge outrageous prices to consumers without many options once they enter the park.
They have also become a smoke-free park in 2004. Which is great for all the non-smokers and those of you who still smoke will be relieved to know that they have convenient smoking areas that are reportedly quite nice, though I didn't have occasion to check them out myself.
I really can't say enough good things about this park, but I'll close by saying if you haven't been yet this summer get to Holiday World immediately. If you have been, start planning another trip before the summer's over.
Seriously. Do it. I'll wait...
CONTACT:

Holiday World & Splashin' Safari

PO Box 179

Santa Claus, IN 47579

(877) 463-2645

www.holidayworld.com