Down By The River
Between Evansville and Louisville there is a ton of Southern Indiana fun
Dr. Ted's Musical Marvels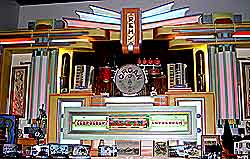 The "Decap" Belgian Dance Organ, one of the few in existnence today, was found in Sint-Niklaas, Belgium.
This instrument was considered "portable" back in its heyday. It would be set up and moved from dance hall to dance hall every six months.
Our first stop was Dr. Ted's Musical Marvels in Dale, Indiana. We've driven by this unique attraction numerous times as we've traveled down 231, but we've never had time to stop. We're glad we finally did! It's easy to find on the east side of the highway just north of I-64.
I can honestly say I've never seen anything quite like this impressive collection of vintage mechanical musical instruments. From music boxes to player pianos to nickelodeons, Dr. Ted has amassed a dizzying collection of self-playing musical machines.
Ted Waflart, M.D., who was a mechanical engineer before becoming a physician, began his collection in 1973 when he bought the 1907 French fairground organ and restored it. He has added to the collection while traveling throughout Europe, visiting vintage amusement parks and through other collectors.
CONTACT:

Dr. Ted's Musical Marvels
RR 2 Box 30A
Dale, IN 47523
(812) 937-4250
Lake Rudolph Campground and Resort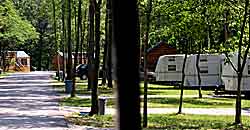 Lake Rudolph Campground and Resort offers over 100 family rental R.V.s and cabins.
Next we checked into our rental RV at Lake Rudolph Campground & R.V. Resort. The campground, which is adjacent to Holiday World, boasts over 100 family rental R.V.s and cabins. It also has a couple of different swimming areas and play areas for kids as well as a camp store and other amenities.
Our stay in the R.V. was comfortable for our family of five and mommy and daddy even got their own private "master bedroom," which we liked.
In addition to the rentals, they also offer plenty of tent sites, R.V. sites and deluxe R.V. sites.
You can find out more about Lake Rudolph at their Web site, www.lakerudolph.com or by calling 1-877-4RUDOLPH.
CONTACT:

Lake Rudolph Campground & R.V. Resort

Jct. Hwy. 162 & 245

Santa Claus, IN

Reservations: (877) 478-3657

Info Line: (877) 937-7839

www.lakerudolph.com