Down By The River
Between Evansville and Louisville there is a ton of Southern Indiana fun
Lincoln Boyhood Home National Memorial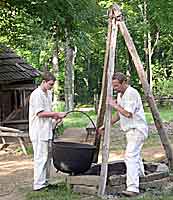 Living history interpreters demonstrate what local farm life was like during Lincoln's time in Spencer County.
Before getting too settled in at the R.V. I let my wife and children enjoy the swimming pool, but I took the short drive to Lincoln City and the Linclon Boyhood National Memorial & Living Historical Farm.
I had visited before, but its always interesting to see the place where one of our most revered presidents grew up. Abraham Lincoln and his family lived in Spencer County from 1816 to 1830. These definitely included the former president's formative years.
The property also includes a living history farm, walking tour and a Memorial Visitor Center. The visitor center includes a museum and orientation film entitled Forging Greatness - Lincoln in Indiana. If you grew up watching In Search Of... on television like me, you'll appreciate the narration by Leonard Nimoy (who is best known as Dr. Spock from Star Trek).
CONTACT:

Lincoln Boyhood National Memorial

PO Box 1816

Lincoln City, IN 47552

(812) 937-4541

www.nps.gov/libo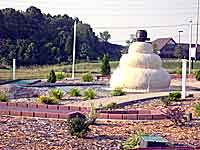 Our family enjoyed a round of Santa Claus-themed miniature golf aat Frosty's Fun Center.
After touring the National Memorial and enjoying a conversation with one of the history interpreters, I picked up the rest of my family and we went to Frosty's Fun Center for pizza and miniature golf.
Located just across the parking lot from Santa's Lodge in Santa Claus, Indiana, Frosty's Fun Center was just the ticket for my family after a busy, but exciting day.
Understandably, our two- and three-year-olds have a little trouble grasping the finer points of the game of miniature golf. But we had quite a bit of family fun, just the same, even if all of our score cards weren't completely accurate.
Maybe we were just really hungry by then, but the pizza tasted extraordinarily good to me that evening.
CONTACT:

Frosty's Fun Center
15 South Cedar Lane
Santa Claus, IN 47579
(812) 544-3338