Down By The River
Between Evansville and Louisville there is a ton of Southern Indiana fun
Marengo Cave
Marengo Cave's Music Hall appeared in the music video for the band GS Megaphone's song Venom.
We finished off our fun-filled three-day tour of south-western Indiana with a visit to Marengo Cave. The area had been recently devestated by tornados and the damage was evident as we passed through the town of Marengo and even the drive up to the cave.
Luckily they were already re-opened in time for our visit.
There is no documented evidence that anyone ever entered Marengo Cave before its historic discovery on September 6, 1883 by Orris and Blanche Hiestand, brother and sister, who lived in Marengo.
The main corridors were quickly explored by Samuel Stewart's son and his friends the following Sunday. Recognizing the value of what they had found, the Stewart's immediately opened the cave to the public.
Having been open to public tours for over 100 years, the cave is probably the most "commercialized" of the Southern Indiana caves we've visited. There is plenty for an average family that is not composed of hard-core spelunkers to do.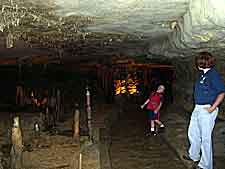 Guided walking tours are only one way to explore Marengo Cave.
The kids particularly enjoyed the Marengo Maze Crawl, which is a cave simulator imported from Belgium that allows guests to wind and twist one way through four challenging wooden boxes. We could hardly keep the kids out of that.
They also enjoyed gemstone mining where they got to keep the gemstones they found and the large gift shop.
My wife and I enjoyed the walking cave tours, but we quickly tired of carrying the little ones who coincidentally quickly tired of walking on their own.
In addition to the things we did, the park offers The Bat, a 300-foot Zipline that allows harnessed guests to drop from a platform and take a thrilling ride down an aircraft cable.
Also two group shelter houses, the Clifton Group Center for groups staying overnight, four air-conditioned camping cabins, a 30 foot climbing and rappelling tower, Challenge Hill Teams Course, an indoor snack bar, and a signed nature trail.
The cave is open daily all year. Memorial Day-Labor Day 9am-6pm: Spring and fall weekdays, and the rest of year 9am-5pm. Closed Thanksgiving & Christmas. Guided tours of both Dripstone and Crystal Palace sections leave every 30 minutes.